Is it time to invest in new equipment for your playground in Buckinghamshire?
Setter Play, based in Bedfordshire, has worked with schools across the home county, since originating in Hertfordshire more than two decades ago.
Most schools love that we're local to them – and always on hand to guide and advise them from start to finish. We can help with everything from school playground equipment in Buckinghamshire to outdoor classrooms, transforming your featureless playground into something fun and inspiring.
Whether it be playground classics, like swings and slides, or challenging adventure trails and climbing frames, we are proud to supply school playground equipment in Buckinghamshire that children love.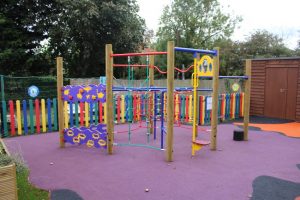 Our playground equipment is guaranteed to keep children occupied and the Storyteller's Chair is a firm favourite of many primary schools. It's perfect for story-time outside and features a tall armchair for the teacher – allowing children to gather round and enjoy the story.
We provide bespoke playground equipment in Buckinghamshire which can reflect highly on your school, children and the surrounding area, and our designers can customise it to match your colour and style preferences. The bespoke units we create for schools in Buckinghamshire can also draw on creativity and promote imaginative play.
What about climbing frames in Buckinghamshire? Not many playgrounds don't have a climbing frame – let Setter Play create the focal point of your school playground.
A climbing frame is supposed to be challenging and exciting for children of all abilities, offering something suitable for everyone. It allows them to set themselves realistic goals and develop physical and emotional strength.
Our climbing frames in Buckinghamshire are made to last and are safe for children to use – providing parents and staff with peace of mind. They teach children 'grip and grasp' and how to work as part of a team with their peers and on their own (independently).
Did you know OFSTED inspectors value school playgrounds that encourage creativity? Investing in playground equipment in Buckinghamshire, from Setter Play, is a great way to meet their requirements.
Why choose Setter Play?
Here at Setter Play, we provide a wide range of equipment which can accommodate the needs of school children, teachers and parents alike. We supply everyday play and imaginative play units, benches and canopies, bike shelters and fitness equipment to ensure your playground in Buckinghamshire is fully-equipped.
If you're looking to update your school playground, book a consultation to discuss your design ideas. Using your ideas, we will then create a plan and quote for your new playground. What's more, we take care of the design, manufacture and installation, so you needn't worry about it being installed correctly.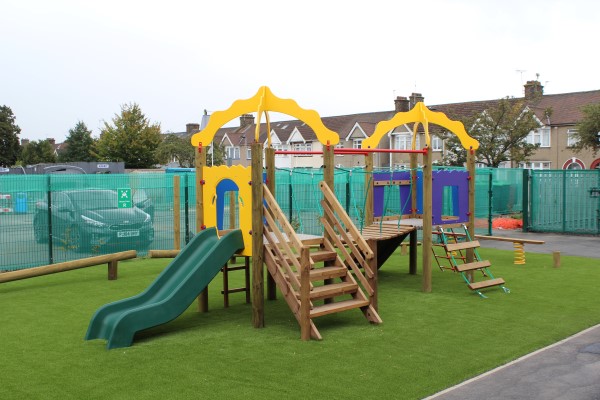 Need to know more about our school playground equipment in Buckinghamshire? We are always on hand to help, so don't hesitate to get in touch with us by calling 01462 817 538 or emailing us at [email protected] today.
Buckinghamshire FAQ's
Is your playground equipment broken? Have you been meaning to invest in new apparatus but not got round to it yet?
Most primary schools opt to install new playground equipment in Buckinghamshire during the summer holidays when the students and staff are off for 5-6 weeks. This allows installers to manufacture and assemble play equipment without having to work around school break times.
However, there's no right or wrong time to transform your schoolyard, and our expert installation team will do everything they can to install school playground equipment in Buckinghamshire at a time that suits you. To get the ball rolling on your playground project, contact us on 01462 817 538.
At Setter Play, we appreciate that no two schools are the same.
Whilst some will be looking to add a few new pieces of apparatus to give pupils more variety, others will be looking to completely transform the school playground.
We also understand that budgets can vary.
That's why – before we even attempt to provide a price for school playground equipment in Buckinghamshire – we'll arrange an appointment with our designers to discuss your ideas in further detail. This will then allow us to offer a tailored solution for your school's needs, at a fair price.
Don't hesitate to get in touch with us to receive your free, no-obligation quote.
Regularly inspecting your school playground equipment and cleaning it often will help keep it looking as good as new for as long as possible. On top of that, though, it'll also ensure the health and safety of the children using it.
As a general rule of thumb, we'd always recommend sweeping up any leaves and debris from the schoolyard to prevent slips, trips and falls.
You should also disinfect frequently touched surfaces to remove germs and bacteria daily. And encourage pupils to sanitise their hands before and after using the apparatus.
It's important to bear in mind that some cleaning products may damage your equipment, as opposed to caring for it. Therefore, if you opt for school playground equipment in Buckinghamshire from Setter Play, it's a sensible idea to speak with our team to find out exactly what you need to do to clean and maintain it.