Many schools are embracing the idea of having bespoke equipment in their playground, offering something suitable for all ages and abilities. If you're looking for exciting playground equipment for your school in Enfield, you've come to the right place.
Setter Play originated in Hertfordshire, more than two decades ago and in this time, we've worked with schools across our home county – including Enfield.
Our playground equipment is designed with the needs of your school and students in mind. We can create play units which attract children to play outdoors – giving them a reason to look forward to break time. As well as this, our equipment can encourage children to spend more time outdoors, being active, preventing childhood obesity.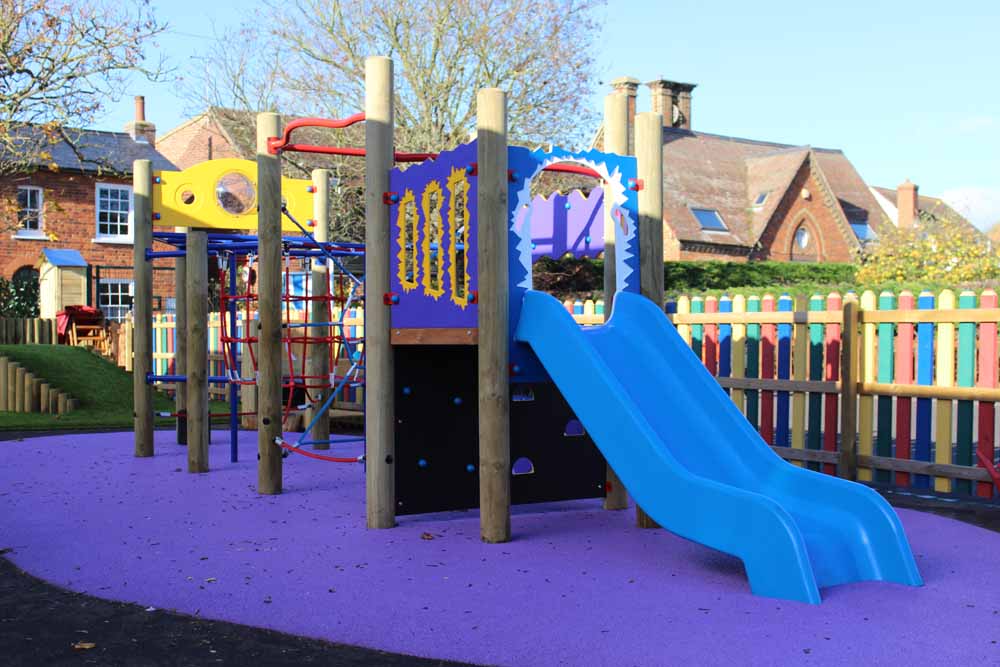 Playground equipment in Enfield can also improve physical health and well-being amongst children from a young age, meaning they needn't sit around doing nothing.  We provide units for climbing, balancing, sliding and stretching, providing them with the ability to enhance their skills through play.
From adventure trails packed full of exploration, to climbing frames offering a challenge for everyone, we're confident you'll find something suitable for school children. Here at Setter Play, we create school playground equipment in Enfield to develop social skills, enabling students to communicate and cooperate with their peers and to make new friends.
We also provide children with the opportunity to try new things. Our climbing equipment is designed to challenge and develop climbing confidence. It stimulates creativity and allows them to use their imagination – playing out of their comfort zones.
Why choose Setter Play?
Although climbing frames are supposed to be fun, we can design them to enhance the school curriculum. We can manufacture units which teach children new skills like grip and grasp, balance, coordination and dexterity, as well as improving communication and vocabulary.
The skills that children develop from using playground equipment can supplement lessons in the classroom – making outdoor play even more valuable.
If you have any ideas for your new school playground, be sure to discuss them with our team of experts who have gained a wealth of experience when it comes to installing climbing frames in Enfield.
We can arrange a consultation to understand what you're looking to achieve, who you're targeting and what you like. After this, we then create a plan for your climbing frame – making sure it meets your needs and exceeds your expectations.
Need to know more about playground equipment in Enfield? Call us on 01462 817 538 or email us at [email protected] today.
Enfield FAQ's