Oxfordshire Playground Equipment
Making your Oxfordshire playground more adventurous can prepare children for making the jump from nursery into school. It also improves dexterity skills, like grip and grasp, which can be transferred into the classroom and develops balance, agility, coordination and communication.
Here at Setter Play, we design, manufacture and install school playground equipment in Oxfordshire to promote inclusive play and to encourage children to spend more time outdoors – leading to a healthier lifestyle.
We originated in Hertfordshire more than two decades ago and have worked with primary schools, like Benson Primary School, in our home county ever since. We built a bespoke climbing frame, 'Hucklerock', to replace old, boring climbing frames in Oxfordshire – providing more of a challenge. Including suspended steps, a rock wall and scramble net, Hucklerock added a true sense of adventure for the students at Benson Primary in Oxfordshire.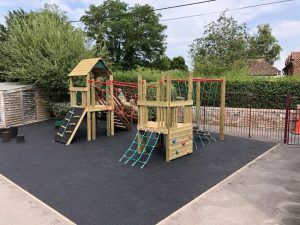 If you're looking to boost the learning and development of children, our playground equipment in Oxfordshire is ideal. We provide everything from free-form, natural and everyday climbing frames to canopies, shelters and benches to ensure your playground offers something suitable for everyone.
We provide playground equipment to suit all backgrounds and abilities, providing children with somewhere to play and learn. Our equipment is manufactured to the highest standard and provides staff and parents with the peace of mind that they are safe to use. Playground equipment in Oxfordshire is also designed to blend perfectly with the surroundings and make the most of available space.
With children always looking to pull themselves up naturally and to climb and explore, climbing frames are a great addition to play areas. Climbing frames in Oxfordshire encourage children to start climbing from a young age which provides countless benefits for their development.
Not only can climbing frames improve climbing confidence, learning through trial and error, but they also provide children with the opportunity to socialise with their peers and to use their imagination.
Our climbing frames in Oxfordshire are guaranteed to cater for their instinct to take risks and set themselves realistic targets. At Setter Play, we create playgrounds that allow children to take safe risks and develop physical and cognitive strength.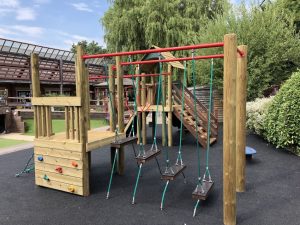 Why choose Setter Play?
Here at Setter Play, we work alongside schools and build a playground that accommodates the needs of all children. We aim to meet the recreational requirements of all schools in Oxfordshire and go the extra mile to exceed expectations.
If you have any ideas about what you want your Oxfordshire playground to look like, be sure to let us know and we will incorporate them into our design – creating a playground which stimulates imagination and allows children to be more creative.
For more information about our school playground equipment in Oxfordshire, call us on 01462 817 538 today.