Updating your school playground equipment in Stevenage is a great way to encourage children to play creatively, and Setter Play can help you to transform your outdated play area into something beautiful.
Originally from Hertfordshire, we have worked with many schools across our home county over the last 22 years, covering areas like Stevenage. Now based in Bedfordshire, most Stevenage primary schools love that we're local to them and are only a stone's throw away should they need any guidance or advice.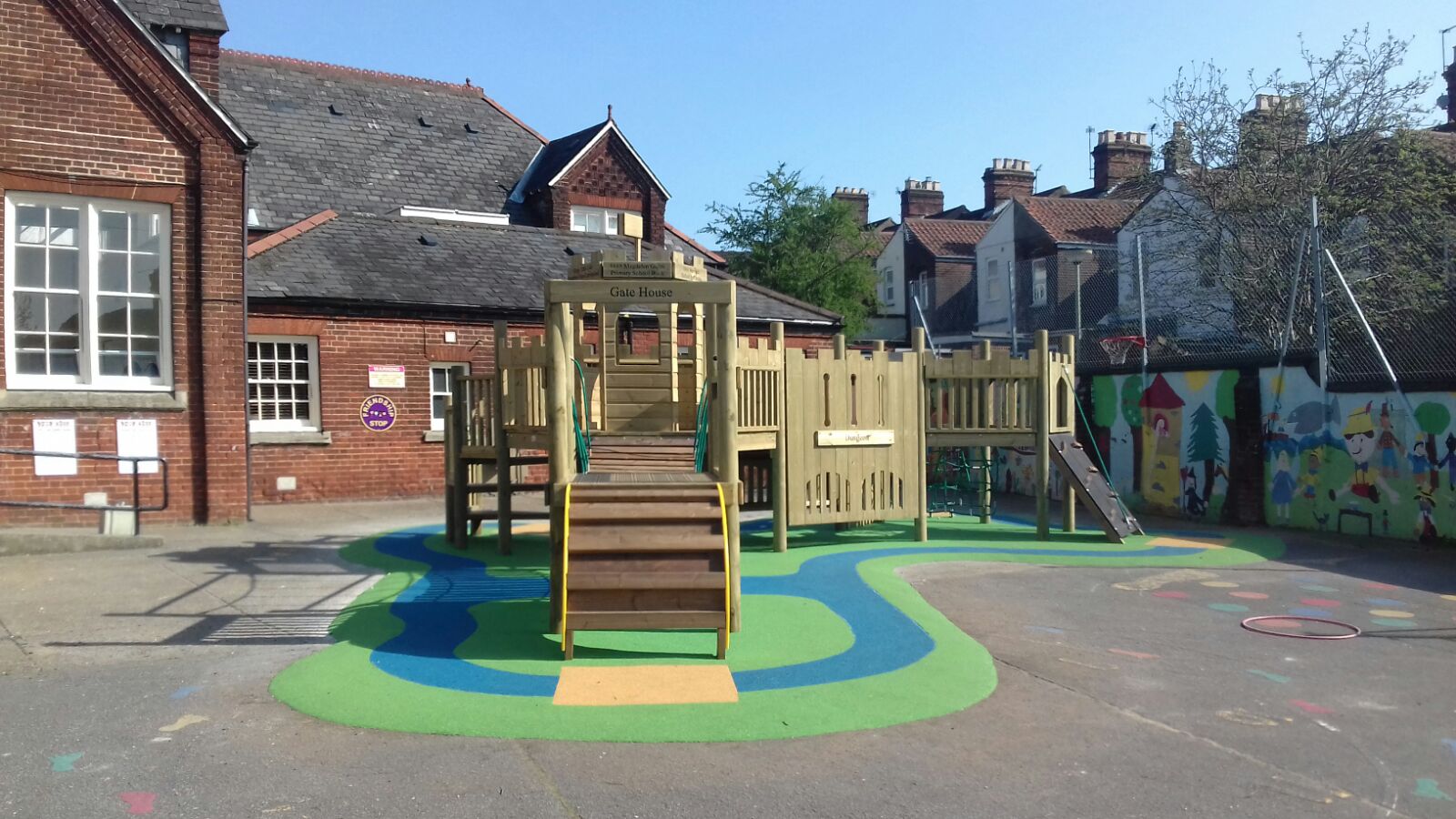 Ranging from playground classics such as swings, slides, adventure trails, and climbing frames, you're sure to find exciting playground equipment for your school in Stevenage. We supply abstract play units like, Pyramid, which are suitable for Key Stage 2 children (aged 8-11). The ginormous climbing frame is pitched and offers a challenge for older students.
Our everyday play units are an excellent alternative for toddlers, so if you're looking for school playground equipment in Stevenage for early years, Bedrock is perfect. Guaranteed to stimulate imagination, it features a range of activities, including a ramp, ladder, scramble net, suspended steps, and fireman's pole.
At Setter Play, we create bespoke play units – ideal if you're looking to make playground equipment the focal point. If you have any ideas or preferences, don't hesitate to let us know. The more information you provide, the better, and we can make sure that your playground incorporates equipment that children will love. When designing school playground equipment in Stevenage, we customise our climbing frames to match your specific requirements – be it colour, size or style – making sure it suits your surroundings.
Whether it be climbing frames in Stevenage or canopies and shelters, you bet we can design, manufacture and install it! We provide playground equipment for projects of all scales and think nothing less than building a playground that draws on the creativity of youngsters.
Climbing frames in Stevenage offer countless benefits. They teach children valuable motor skills, like grip, grasp, agility, and balance – developing physical and emotional strength from an early age.
OFSTED inspectors value playgrounds that incorporate exhilarating playground equipment. Having access to playground equipment allows you to take lessons outdoors, adding to the school curriculum. It makes learning more enjoyable and helps individuals to gain hands-on experience.
Why choose Setter Play?
The friendly team at Setter Play can help you to create the best results for your school. We work with you from start to finish, making sure that your school playground equipment in Stevenage suits the surroundings, the requirements of your students and your budget.
On hand Monday to Friday, 8.00am to 5.00pm, our team is more than happy to answer your questions and queries about school playground equipment in Stevenage, so call us on 01462 817 538. Alternatively, email [email protected] and we'll get back in touch with you as soon as possible.