Playground Equipment in Waltham Forest
Investing in new playground equipment for your school in Waltham Forest is a fantastic way to incorporate outdoor play into the school curriculum – and Setter Play are market-leaders in planning, designing and installing the very best units.
Outdoor play is important for Early Years Foundation Stage (EYFS) and purchasing exciting playground equipment in Waltham Forest can assist with social, emotional and physical development. Kids are constantly looking for ways to naturally pull themselves up and explore their surroundings. With the instinct to climb and take risks, challenging playground equipment can prepare nursery children for the big jump into school.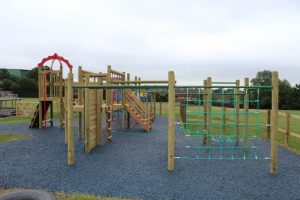 Although we originated near Hertfordshire more than two decades ago, we have worked in partnership with various schools, nurseries, local authorities and child psychologists in our home county ever since. So if you're looking for school playground equipment in Waltham Forest, you've come to the right place.
School playground equipment gives children the opportunity to mix with their peers and develop communication skills, as well as:
improve dexterity
improve problem-solving skills
boost climbing confidence
develop physical strength
Climbing frames in Waltham Forest guarantee endless opportunities for children. Some feature ladders and scramble nets whilst others incorporate rock climbing walls. A climbing frame is designed to be testing. It enables children of all ages to set themselves realistic targets and to push their own boundaries. After reaching the top, children usually have multiple options to get down. They can either whizz down the slide or be more adventurous and take the monkey bars.
The great thing about our climbing frames in Waltham Forest is that they are designed with the needs of your students in mind. If you have a design idea in mind, feel free to book a consultation with the Setter Play team. We take on board all of your creative suggestions and bring them to life – manufacturing superb playground equipment that will inevitably suit your surroundings.
Why choose Setter Play?
When it comes to creating a beautiful playground in Waltham Forest, rest assured you're in capable hands with us at Setter Play. We take care of every aspect – including installation – to give you the peace of mind that it's safe for children to use.
For more information about our school playground equipment in Waltham Forest, call 01462 817 538 or email [email protected]. We will be more than willing to guide and advise you.