With temperatures rising, both you and your pupils are bound to be looking forward to spending more time outside in the summer months. Beats sitting in a stuffy classroom all day, right?
Whilst kids love nothing more than playing with their peers, coming up with imaginative games and exploring their surroundings, they can learn a lot through play.
The importance of play
Not just oodles of fun for little ones, play is important for the early stages of brain development. It sets them up for later life and teaches them vital skills, such as problem-solving, communication, taking turns and teamwork.
Incorporating playtimes into the school curriculum helps to develop strong bones and muscles, whilst reducing the risk of childhood obesity. On top of this, it enables children to make friends, build resilience and cope with stress – all things that will come in handy as they get older!
So, what can you do to make playtimes more enjoyable this summer?
Here the team at Setter Play share a few simple yet effective ideas to help you give your school playground the fun factor.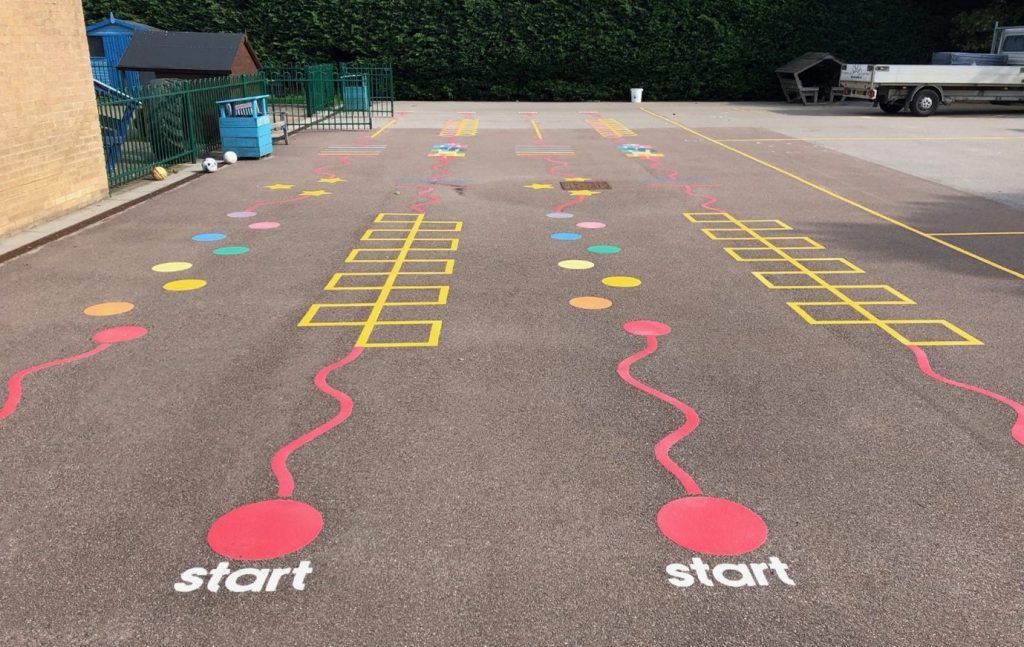 1.    Make the most of the space available
Even if you only have a small space to work with, it doesn't mean you can't create the perfect play area for your class! Large pieces of apparatus might be out of the question for safety reasons, but there are lots of things you can do to encourage imaginative play.
For example, you could opt for play panels, such as musical instruments, which don't take up too much room. These are a colourful addition to make to your school playground and help to develop hand and eye coordination skills.
Alternatively, use thermoplastic line-markings to set the scene for games and activities whilst brightening up the yard. These also look fantastic on bigger playgrounds and can be used to create a play town. You could dig out the dressing up box and let the children use their trikes, bikes and scooters, too.

2.    Incorporate different play zones
Want to know the secret to making your play area more fun all year round?
Try and create a contrast between active stations that get your students using their unexpended energy and calmer spaces. It could be a climbing frame that incorporates a rock climbing wall, slide, balancing beams, monkey bars and rung ladders or a sports pitch and a quiet corner for reading stories or eating lunch.
Providing enough scope for adventure and exploration, as well as an element of danger, will encourage children to push their boundaries and step out of their comfort zones. More than that, though, it will help them to differentiate between the different types of play and also allows them to choose what they do.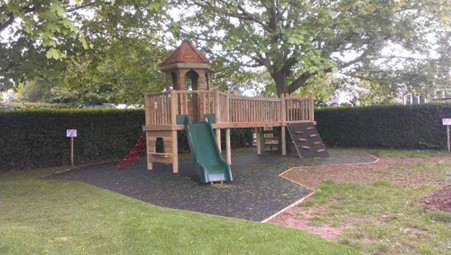 3.    Invest in exciting playground equipment
Children love to make their own choices, and having a variety of activities to choose from is a sure-fire way to inspire young people!
It might seem obvious, but you need to get the balance right. Before you choose school playground equipment, factor in the age and abilities of your students – as well as the school's budget and funding.
Our team of designers here at Setter Play can design, manufacture and supply playground equipment that suits the requirements of your students, parents and teaching staff – creating a play area that's stimulating and safe.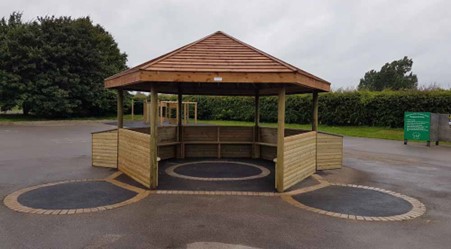 4.    Provide outdoor seating and shelters
Whether it be a place to perch their bottoms after hurtling around the playground or to sit and wait until they feel comfortable getting involved with group activities, picnic benches are a fantastic addition to make.
During the summer, pupils must wear sun cream and hats to protect them from burning when playing out. And if your playground doesn't offer any shade (or you'd like to add more to keep the kids cool), be sure to take a look at our canopies and shelters. Not just ideal for the hotter months of the year, these allow students, staff and parents to take cover from the harsh elements in winter too.

5.    Create a storytelling space
How many children don't love a good book?
Taking story time outside can really help them to soak up the atmosphere and open up their imaginations. It breaks up the monotony of being in the classroom and also makes learning to read, and speaking in turn, more enjoyable.
A brilliant way to liven up the playground this summer is to create a space that's dedicated to storytelling with fun seating. Our Storyteller's Chair and Mushroom Seats are perfect.
It's also worth installing a shelter to provide shade from the sun's UV rays and the occasional rain shower that's inevitable in the UK.
Got your own inventive ideas?
Great – why not contact the team at Setter Play? We'd love to hear all about them and help you transform your visions into a reality!
Either give us a call on 01462 817 538 or drop us an email at [email protected], and we'll be in touch.
Alternatively, if you have any questions about the school playground equipment we supply, or you're wondering how soon we can design and manufacture bespoke play units, simply send us a message via our online enquiry form.