Looking to update your old fashioned playground? Setter Play can help you to transform your playground for the better – providing playground equipment for all ages and abilities.
We design, manufacture and install playground equipment to suit the needs of all schools, so if you're looking to make your playground more exciting for students, why not consider creating a Modern School Playground?
Here we look at the 6 key elements for designing a modern playground:
Surface materials
The surface is the most important factor to consider as it concerns the safety of students. One of the main differences between a dated and Modern School Playground is the surface, and you need to make sure that you select the right one.
Surfaces like rubber mulch and wet pour
surfacing are designed to offer more cushioning than asphalt and can be used all year round for various purposes.
Always choose a surface that is safe, easy to maintain and suitable for play activities – the last thing you want to do is run the risk of accidents and injuries.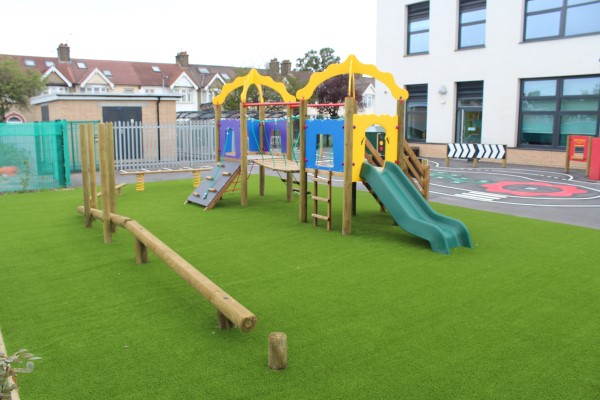 Seating
A Modern School Playground offers something suitable for everyone. Why not provide students with somewhere to sit whilst they eat their lunch or socialise with peers?
Having picnic benches outside will allow children to eat their packed lunches in the open air and will prevent the canteen from becoming too congested.
At Setter Play, we provide a wide range of natural timber benches which are great for staff and students alike. You'll find them in a choice of sizes, styles and shapes, so be sure to choose the most suitable one for your playground.
Shelter
When the weather conditions aren't idyllic for outdoor play, shelters and canopies are always a fantastic idea. Not only do canopies offer protection against all elements, they ensure that there is minimal disruption to classes that are taught outside the classroom.
Incorporating a shelter to your Modern School Playground will provide a shaded area for individuals to sit during the summer.
Included within our range of shelters and canopies, we supply a selection of gazebos and pergolas which can help to develop social skills – encouraging peers to communicate with each other.
Natural play
Who's to say that you cannot add greenery to your playground? Most modern playgrounds include aspects of nature to boost the mood of children.
Not all aspects of the playground need to be challenging and natural resources can often enhance education and promote relaxation. We don't only supply 'natural play units' and wooden climbing frames for school playgrounds, we also provide equipment for imaginative, social and natural play – including the storyteller's chair.
Fun
Looking to create a Modern School Playground that is fun and exciting? Here at Setter Play, we can help you to determine the right equipment for your playground – making sure that it suits the demands of all students and offers an element of fun.
Our equipment provides plenty of opportunities for children to develop their cognitive skills. We create playgrounds to suit the space that you have available and ensure that it provides a challenge for all abilities – making play more enjoyable and allowing them to push themselves.
Equipment
What really gets the thumbs up from students is the equipment that you install. Any units that you add to your playground needs to be safe, exciting and intriguing.
Carefully selecting playground equipment will allow you to provide students with ultimate playtime fun – perhaps ask them to see what they'd like to see in the Modern School Playground?
Including something different will instantly make your playground stand out from any other and we can help you to do exactly that.
Need to know more about modern school playgrounds? Call us on 01462 817 538 today.
6 Features Of A Modern School Playground FAQ's