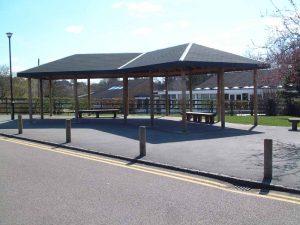 If you're looking to make outdoor learning more enjoyable, you can't go wrong with an outdoor classroom. They allow you to take lessons outside – no matter what the weather is doing – and when it comes to meeting curriculum needs, outdoor classrooms support the fundamental principle that, wherever they are, children are constantly learning.
An outdoor classroom is made from sustainable materials and built to last. Here at Setter Play, we design and install outdoor classrooms in accordance with all current building regulations.
Why is outdoor learning important?
Taking the classroom outside is believed to be motivational for children and can help them to concentrate.
Lessons that are taught outdoors can inspire children and they tend to be more willing to learn in an environment that is different to the conventional classroom.
We design and install outdoor classrooms to suit all school year groups – could your school benefit from one?
How can you benefit?
Designed to balance physical development with education, the outdoor classroom is a popular investment for many schools. So, if you're looking for a practical solution for outdoor learning and outdoor play, look no further than Setter Play.
Within the curriculum, there are several indoor activities that can easily be taken outdoors which can benefit teachers and students. These include:
Extra learning space
Expanding the classroom space and maximising the school grounds is made easier with an outdoor classroom. Setter Play provide outdoor classrooms which offer a less disruptive method for providing extra space.  As well as this, they are ideal for when class sizes increase and allow you to accommodate everyone.
Hands-on learning
Our outdoor learning facilities provide children with the opportunity to gain hands-on experience and to learn new skills. Teaching outside will encourage children to get involved in activities and is often a great way to capture the attention of those who learn better practically, rather than theoretically.
Cognitive development
At Setter Play, we provide a wide range of teaching canopies which are great for outdoor classrooms. They are carefully designed to offer educational benefits for the entire class. They make learning fun and can improve the quality of speech and language by promoting effective communication amongst peers.
Shelter
One of the main concerns with outdoor learning is the weather. We allow lessons to take place outside the classroom all year round by offering teaching canopies. Our canopies provide protection against rain and wind – ensuring that when teaching outside, both you and your students are sheltered from the elements.
Teamwork
The outdoor classrooms can be tailored to suit your unique requirements. They are built to offer a gathering place or meeting point on the school grounds. By offering more space, there is ample opportunity for group activities to be conducted – enabling children to improve their ability to work as a team.
Social skills
Outdoor learning is a great way to make lessons more engaging for students and teaches them valuable social skills. When lessons are taught outside, there is often a significant improvement in confidence and self-esteem. Students are also able to communicate easily with their peers and members of staff.
Physical development
The equipment that we provide for outdoor classrooms at Setter Play is guaranteed to increase the physical strength of children. We accommodate for all needs and abilities, allowing for a healthier lifestyle. In offering children the chance to learn outdoors, we also help you to prevent diabetes, obesity and ADHD from a young age.
Accessibility
Ranging from canopies and shelters to benches and other storage solutions, we can provide various extras which makes sure that your outdoor classroom is always accessible. Choosing one of our outdoor classrooms will enable you to fulfil outdoor lessons. The fact that they are permanent structures makes it easier for teachers to plan their lessons and incorporate outdoor play.
Given the notable advantages, an outdoor classroom is something that you should certainly consider if you're looking to enhance children's education.
If you would like to know more about our outdoor classrooms or teaching canopies, contact our team of technical experts on 01462 817 538 or email us at info@setterplay.co.uk today.