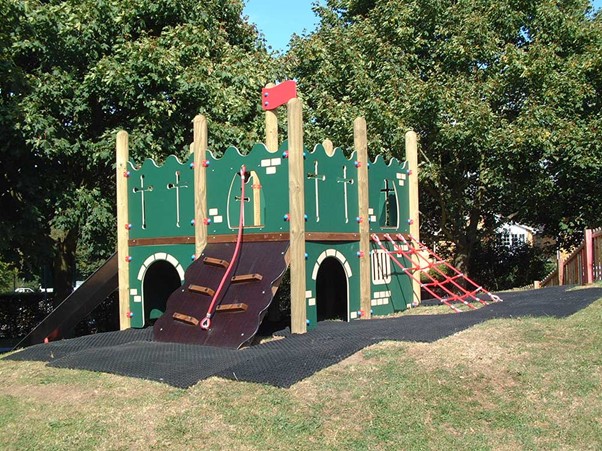 Things have been tough over the last year or so – and not just for the grown-ups! The closure of schools and local parks during lockdown meant kids couldn't see or play with their friends inside or outside of the classroom, and they had to quickly adapt to home-schooling and online learning.
As things are slowly starting to go back to "normal", you might be looking to reward your pupils. And what better way to do so than to invest in some new school playground equipment?
Need a little inspiration? Here, let us help!
At Setter Play, we design playgrounds for schools, local authorities, community centres and nurseries all the time. We understand that themed play areas – such as medieval castles, dinosaur dens and pirate ships – have soared in popularity over recent years, but we have been creating bespoke play projects for those in our home county for more than 20 years.
If you'd like to design a themed playground, it's a good idea to assess all of the available options before you rush into anything…
Looking to ignite children's imagination? Our fantastic range of school playground equipment is sure to do exactly that while transforming your tired schoolyard into a play haven.
We have climbing frames and play towers that feature a number of activities – allowing children to develop vital skills, such as grip and grasp, balance and teamwork. However, after climbing to the top (and before whizzing down the windy slide or fireman's pole), little ones are sure to feel like the king or queen of the castle!
You're sure to find apparatus that the kids will love within our extensive collection. But the best thing about our school playground equipment is that it can be easily tailored to your space (and budget) by adding or removing certain features.
So, if you'd like to customise your themed play equipment in any way – be it swapping existing panels for custom-made versions or opting for your school colours – we'd be more than happy to do so.
Ready to get your creative juices flowing? If you'd like to design your own themed play area, it's worth speaking with your pupils first to find out what sort of school playground equipment they want, as they'll be the ones who are using it!
Bespoke castle-themed playgrounds, like Prae Wood Castle pictured above, are great for spurring youngster's imagination. Tailored to suit all ages and abilities, your space and budget, children can pretend to be the king and protect their fortress from dragons, or play the role of a princess trapped at the top of a tower waiting for Prince Charming to come to their rescue.
Discuss your ideas with our design team today
Setter Play is here to make your vision a reality. We are not scared to take on a challenge.
After speaking with the children, parents and teaching staff at your school, you'll probably have a few concepts on paper, right? If so, arrange a free consultation and let us know what your innovative ideas are. We'll then get to work on designing a school playground that includes them – ensuring it's safe and oodles of fun for children and complements the school grounds perfectly.
To find out more about our bespoke school playground equipment, please feel free to call 01462 817 538.