So you're looking to update your school playground – making it more engaging and exciting for all students? Let Setter Play help you to transform your tired playground into something beautiful today.
Offering more than 20 years of experience, our team of experts design, supply and install wooden climbing frames in the UK which can encourage imagination, curiosity and physical development amongst children from an early age.
Our climbing frames and other wooden playground equipment allows children to interact with their peers and effectively improve their social skills, making them an excellent choice for your school.
Here's how our playground equipment can benefit your students:
Learn through play
Children can be easily distracted in the classroom but taking the lesson outdoors can often break up the school day – making it more enjoyable.
A wooden play area can capture the attention and exploration of the class and is bound to offer your students ample opportunity to learn and develop new skills.
Promote inclusive play
Noisy, hectic environments are not for everyone which is why it's important that you design your playground to suit the requirements of all students.
We make sure our wooden playground equipment accommodates all physical and mental learning difficulties, offering a suitable challenge that allows them to set and achieve their own targets.
Encourage creativity
School playground equipment encourages students to use their imagination and to explore the environment. It's great for developing their creative side.
Whether it be our Wacky House or Huckleberry unit, we can install wooden play equipment which allows Key Stage 1 children to mix with their peer group – letting their imagination run free.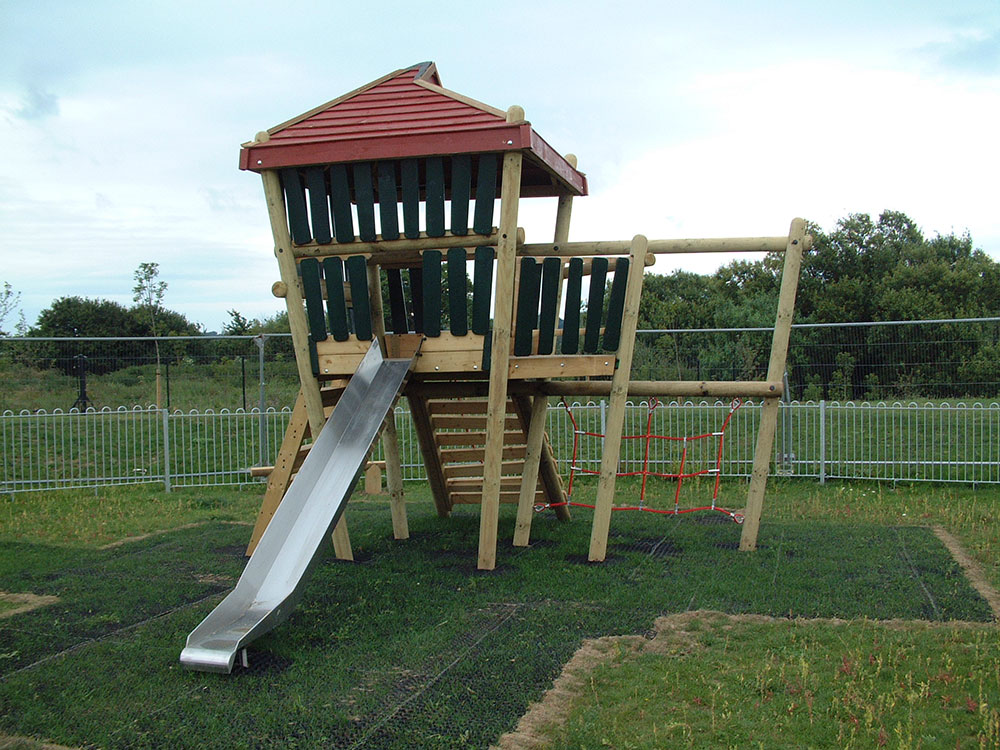 Improve physical health
Here at Setter Play, we install wooden climbing frames in the UK to encourage children to be more active and to run around, releasing built-up energy.
Outdoor play exposes them to sunlight which provides them with a source of Vitamin D – needed to strengthen bones and prevent diabetes and heart disease. Vitamin D also releases serotonin which is a hormone that regulates emotion and mood – to boost morale.
Improve mental health
Combining outdoor play with physical exercise and a wooden playground can have a positive impact on the mental health of young children.
It allows children to develop socialisation skills and to work as part of a team, communicating effectively with their classmates. As well as this, it can reduce the symptoms of depression, providing them with the chance to relax and reflect.
Improve behaviour
Did you know a wooden play area can improve students ability to learn?
Packed full of physical and mental challenges, our climbing frames are built to be testing for all ages and abilities. They allow them to immerse themselves and to get involved, using up any excess energy.
Our play units can also improve engagement and attention, so they can concentrate and behave better in the classroom.
Build confidence
Structured lessons offer a sense of safety and security and this is ideal for students who like routine. However, outdoor play is the complete opposite. It's daring and pushes boundaries.
Students can benefit from wooden outdoor play equipment because it enables them to control their own actions. They have the freedom to do what they like which can empower children and offers them a sense of independence.
Long lasting
All our elemental units are made from high-quality natural materials. They are designed, installed and supplied by our team of experienced professionals, to ensure they last.
Choosing one of our wooden play units will allow your students to use the equipment all year round because we design them to withstand all weather conditions – including snow, ice and rain.
Our wooden play equipment is favoured by many schools because it has a low moisture level and is less prone to rot. It doesn't rust like metal either, so it's easy to maintain.
Environmentally friendly
When we design a wooden playground, we keep the environment at the forefront of what we do. Our climbing frames are made from renewable materials and can complement the school landscape, especially woodland areas where there is already woodchip, sand or trails.
OFSTED reward schools who promote eco-friendly play as it allows children to explore their surroundings and to develop play skills.
If you need to know more about how your students can benefit from our wooden outdoor play equipment, don't hesitate to get in touch with us on 01462 817 538 or email us at [email protected] today.