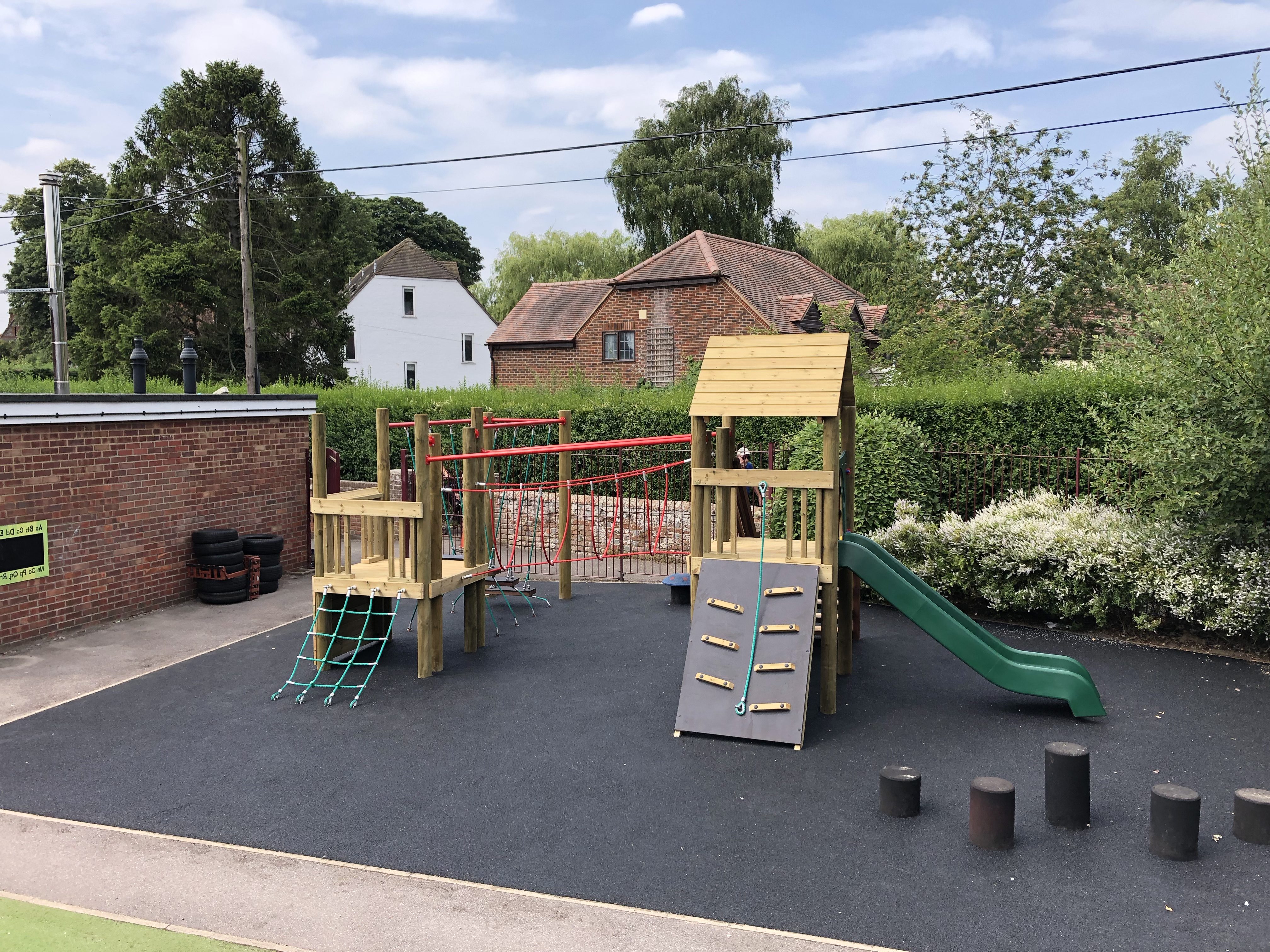 Are you looking to install a new playground or to update your existing play area? If so, Setter Play have the expertise to help. We supply school playground equipment that allows you to transform your facilities in next to no time and accommodate for all needs.
The number of children dealing with stress and anxiety in primary schools is increasing and there are a number of reasons why this may be. Research has shown that 1 in 5 children experience difficulties with their mental health before reaching the age of 11 – but this needn't be the case.
Installing new school playground equipment can help to reduce anxiety. Here's how:
Outdoor play
When children engage in outdoor play, they release the 'feel good hormones' oxytocin and serotonin which can instantly boost their mood. Outdoor play can also help children to be more attentive in class and improve performance in school – promoting creative thinking and taking their minds off troubled thoughts.
The right playground equipment can overcome many difficulties and allows individuals to challenge themselves. Our school playground equipment is designed to suit all ages and abilities and encourages all school children to respond to situations in their own way.
Play is an enjoyable activity, it can also support friendship building and promote communication with peers.
Playground equipment
There are several ways that children who suffer from anxiety or stress can benefit from the investment of new, exciting playground equipment.
At Setter Play we design, manufacture and install playground equipment to meet the criteria of schools  and, most importantly, to suit the requirements of the children who will be using the apparatus. The equipment that we supply is carefully designed to improve physical strength but can also assist with cognitive development, allowing young individuals to develop their social skills.
Encouraging play will release endorphins and provide a sense of accomplishment which can boost the confidence and self-esteem of children of all ages.
Imaginative, social and natural play
A great way to reduce stress is to promote imaginative play. Imaginative play allows children to channel their energy into physically and mentally challenging activities.
Within our extensive collection of school playground equipment, you're sure to discover stimulating equipment that allows children to release energy and let their imagination run free.
We tailor our playground equipment to suit the way that children play and socialise. Our equipment supports mindfulness and assists young children to channel their energy into activities whilst out in the fresh air.
An example of one of the play units that we have created at Setter Play is the Storyteller's Chair– a favourite of teachers who are looking to make story time more intriguing and exciting. Surrounding the storytelling chair, we can install mushroom seating for children – providing you with the opportunity to take the classroom outside.
Activity trails
We create activity trails which challenge balance, agility and strength. They can be used to promote well-being and prevent childhood obesity, combining the benefits of exercise and fresh air to keep young children active and healthy.
Our activity trails are designed to be testing and this makes them great for all individuals – regardless of ability. We recommend providing children with innovative playground equipment that pushes boundaries whilst reducing stress hormones.
Canopies and shelters
Some children who suffer from anxiety find it hard to mix with their peers and struggle to volunteer themselves and get involved in activities. For these children, having canopies and shelters is beneficial, as they allow them to sit and observe until they feel confident enough to join in.
Gazebos and pergolas can be custom-made to suit your unique requirements and are ideal if you're looking to encourage communication. The pergolas are shaped to be octagonal or hexagonal (depending on what suits your playground) and provide a sheltered area for children to chat and socialise.
If you're looking to create a playground that reduces stress and anxiety, why not leave it to the Setter Play experts? We produce playgrounds to match your design ideas, with safety and durability a top priority – making it a lasting investment for your school.
Find out more today by calling us on 01462 817 538.