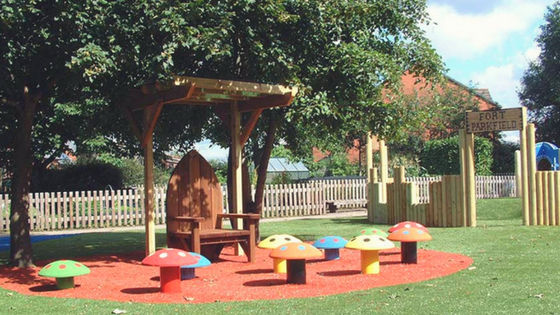 Playing provides children with the opportunity to develop their speech, language, and symbolic thinking- it's no surprise that you want to create a school playground that accommodates the needs of children of all ages and abilities!
School playground equipment can also assist with the physical strength of children and their ability to socialise with peers. Statistics have shown that children who engage in "free-play" tend to be healthier individuals and have high self-esteem levels, hence why it's so important that you create a playground that has school playground equipment that caters for all capabilities.
If you're looking to encourage inclusive play; where children can easily interact with others, there are several factors that you'll need to take into consideration, including the following:
Accessibility.
Any school playground equipment that you choose to install to your play area needs to be easily accessible for children, parents, and teachers. Incorporating ramps, rails and ground level play equipment is one way to encourage children of all abilities (including those with disabilities) to get involved.
Here at Setter Play, we provide Bespoke Projects that are designed to match your exact specification, so if you do have any special requirements, feel free to discuss them with our team of experts on 01462 817 538.
Cognitive Development.
From swings and slides to climbing, spinning, and rocking, children love to explore! The school playground equipment that we design can enhance the cognitive ability of children of all development levels, ensuring that nobody feels left out.
Although swings aren't a new feature on the playground, they'll always provide that stomach-churning feel that thrill-seekers look for. Our swings are just one way that children can use up any excess energy that they have, rather than being disruptive in class.
When designing a new playground, be sure to incorporate education into play. Our Imagination, Social and Natural Play equipment could be just what you need!
Comfort.
Understandably, nobody likes to do anything out of their comfort-zone, but our playground equipment combines something suitable for everyone.
By mixing quiet play areas with more energetic activity areas, children can either take part in inclusive play or sit and observe until they build up the confidence to join in. For individuals who are often overwhelmed with crowds of people, a quiet area will allow them to feel at ease.
Playground equipment doesn't just include challenging equipment- there needs to be somewhere for teachers and parents to supervise. The benches that we supply at Setter Play don't only provide comfortable seating, they allow parents to keep a watchful eye on their children, whilst socialising with others.
Engagement.
You want your school playground to be engaging, right? At Setter Play, we aim to design and manufacture school playground equipment that complements your school environment and captures the attention of children.
The use of bright primary colours will instantly make your playground stand out and could make the school day more exciting and fun! As well as colour, be sure to go for something inspiring; the use of different sounds, textures, and surfaces is ideal, like our Abstract Free Form Play Equipment.
What are the benefits?
Choosing the right school playground equipment will allow children to mix with their peers and make new friends. Providing something suitable for all ages and abilities will instantly offer a sense of community too.
The addition of a challenging, inspiring play area is thought to improve health and learning. Any equipment that we design, manufacture and supply is guaranteed to utilise energy and allow children to release any stress.
Our school playground equipment can make children more productive and attentive in class, so by incorporating "free play" or break time, you'll have the opportunity to prevent them feeling overwhelmed.
Here at Setter Play, we aim to accommodate all playground needs, ensuring that you find equipment that matches your budget and environment perfectly. If you have any ideas for your school playground equipment, get in touch with our team of expert designers today, we will be more than willing to create a playground that works for all of your students!