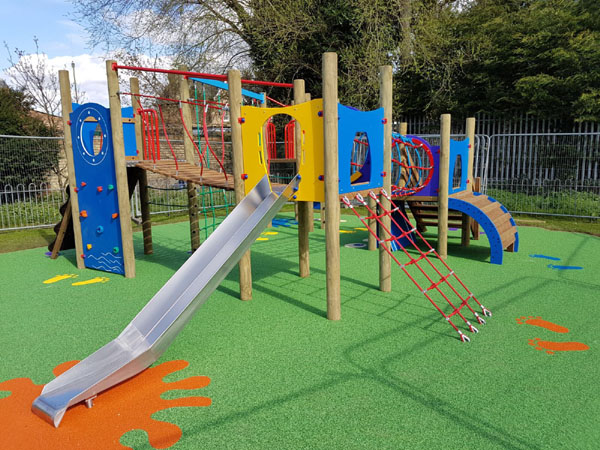 Playground equipment needs to offer an element of exhilaration if you want to encourage children to use your play area. Make sure that your playground equipment is suitable for children who are in Key Stage 1, Key Stage 2 or Key Stage 3; ensuring there is a little something for everyone!
Equal opportunity.
Remember to incorporate playground equipment that's safe for children who have disabilities too. A play area should never discriminate against ability, it should be stimulating for children of all ages and abilities.
Having said this, the play area still needs to be challenging to assist with mental and physical development. Playground equipment can be used to enhance creativity too, so there needs to be a degree of difficulty to encourage children to use their imagination and to step out of their comfort zones.
Health.
It's time to put an end to child obesity! What better way to do so than to build a playground that's exciting? Challenging playground equipment can encourage children to be active rather than staying at home, playing on electricals.
When choosing equipment to go in your playground, whether it be a replacement or a new build, consider how educational values can be implemented through play. Children can be challenged to use their imagination without them even realising – crafty, right?
Creativity.
At a young age, children can show signs of intelligence and through the installation of inspiring playground equipment, it can not only encourage them to exercise, it can inspire them to use their minds at the same time.
Setter Play provides playground equipment to promote inventiveness by offering multi-play units. They have a wide range of units that are ideal for making play areas more fun, by combining equipment for different ages, you're encouraging more children to use your facilities.
In addition to this, Setter Play have themed playground equipment that allows children to let their minds run away with them. Examples of this are the Galleon and the Tugboat (part of our Fundamental range) which set the scene for children, encouraging them to be inventive.
Excitement.
Choose playground equipment that's colourful. You can bet that children's eyes will light up as soon as they see a play area that's vibrant and creative. Make the equipment stand out- go for colours that are complimentary for the surrounding environment. You can't go wrong with primary colours!
The need for an exciting playground is essential if you want to generate more visitors to your playground.
Freedom of choice.
Equipment that isn't challenging won't be suitable for those who get bored easily. The purpose of playground equipment is to provide entertainment, make sure that your playground is filled with a range of apparatus that appeals to more children.
Setter Play have created bespoke projects such as St Andrews Castle. This is an example of a unique project that is tailored to the needs and requirements of school children of various ages. There is more than one activity for children to be getting on with, reducing the need for arguments!
If your budget permits you to, Setter Play recommend that you replace your existing playground equipment and offer something more innovative and inspiring for children of various ages!
Call them today on 01462 817 538!