The modern and extraordinary curved walls of Henry Allen Infants Schoolwere certainly a challenge to surmount!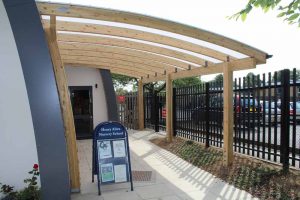 However as specialist shelter and canopy designers, manufacturers, and installers, this was a challenge our design team relished, and we proposed a design that really set us apart from the competition:
By borrowing some architectural plans to the building, we were able to discover the radius of the curve of the building. With our intimate knowledge of high quality glulam curved beams, we ordered up some beams that would mirror the curve of the building, so as to create an upright that would fit seamlessly  against the wall. Supported by these uprights is an opal polycarbonate roofing system, designed to prevent UV rays penetrating, mounted on more glulam curved rafters, adding further interest to this innovative design.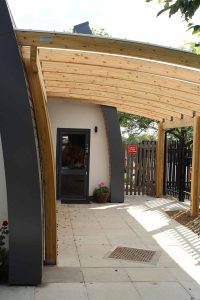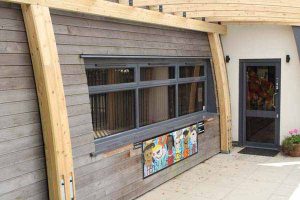 The uprights were designed to fit perfectly on either side of the window, as well as mounted on metal feet, minimising disruption to the existing flagstone paving, and ensuring the door in the picture could open with no problems.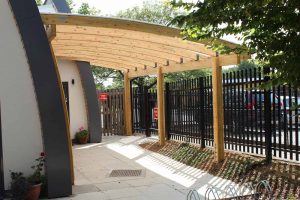 This curved-beam canopy certainly presented a challenge to materialise, but it was a challenge we relished, and we are extremely proud of the innovative problem-solving design we delivered for Henry Allen School.