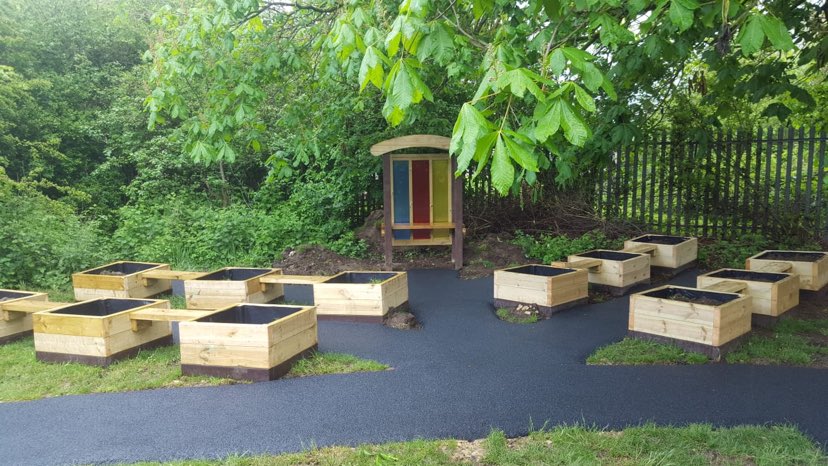 Touch, sight, smell, taste, and sound – without our senses, how would we keep ourselves safe and perceive the environment? How would we interact with our surroundings and people?
Though it's our sensory system's natural instinct to respond to information in some way or another, finding the appropriate response is often something that we learn from a tender age. And with that in mind, incorporating sensory play in the school curriculum – either through games, lessons, or the use of playground equipment – is a brilliant idea!
Here Setter Play offer a few simple yet effective ways to stir the senses of youngsters, particularly nursery and primary school children.
How to boost your school's sensory play provisions
1.    Make the most of available space
From chasing their friends to jumping through hoops, hopping on one leg, climbing over things, and crawling through tunnels – kids love to keep moving.
Our vestibular and proprioceptive systems are our sixth and seventh senses. These are typically associated with body movement and affect our ability to balance, which is why it's worth making the most of the space you have both indoors and out.
Inside the classroom, make sure pupils and staff can move around freely without encroaching on each other's personal space. The same applies outside, only you may consider adding a mound and tunnel for them to crawl through, climb over, and jump off.
Alternatively, an age-appropriate obstacle course will enhance their balance, coordination, and spatial awareness.
2.    Take lessons outside
There really is no better place to learn than the great outdoors, and your school playground can provide the perfect safe spot for immersive sensory discovery.
We appreciate that the Great British weather is nothing short of unpredictable but – offering shelter against rain, snow, sleet, and hail, as well as heat from the sun's glare – that's where our outdoor classrooms and teaching canopies come in.
Providing they don their wellies, waterproof coats, hats, scarves, and gloves, you could let your pupils play out in the rain. This way, they don't just have to watch the rain trickle down the windowpane from inside the classroom, but they can also feel the rain on their skin, jump in muddy puddles, and smell the earthy scent (also known as petrichor).
3.    Introduce different textures
Whilst many parents teach little ones to "look with their eyes, not with their hands", sensory play is all about developing their sense of touch.
Whether it be making mud pies, building sandcastles, or splashing around in a water exploration zone, there are several ways children can experiment with different textures. And providing an assortment of school playground equipment is just one of them.
Playdough is another fantastic sensory and learning aid for young children in the classroom. They can squeeze it in their hands, pinch it, and pull it apart. On top of that, it helps develop fine motor skills, improves hand and eye coordination, and encourages creativity.
4.    Use musical instruments
Not just great for the budding musicians in your class, outdoor musical instruments can encourage youngsters to have a go and experiment with different sounds.
Some pupils may be more sensitive to loud noises, whereas others might get distracted by the softer sounds that not everyone hears. That's why it's worth having a wide selection of instruments, such as drums, xylophones, and string instruments. And don't forget to invite the class to join in with nursery rhymes and songs!
Invest in your school playground today
When was the last time you showed your playground a little TLC?
If your school playground equipment is drab and dated, consider speaking with the team at Setter Play. We have loads of innovative ideas on how to transform your tired playground into a play haven – and we're sure you'll have plenty of your own too.
To discuss your design concepts with our specialists, get in touch on 01462 817 538.