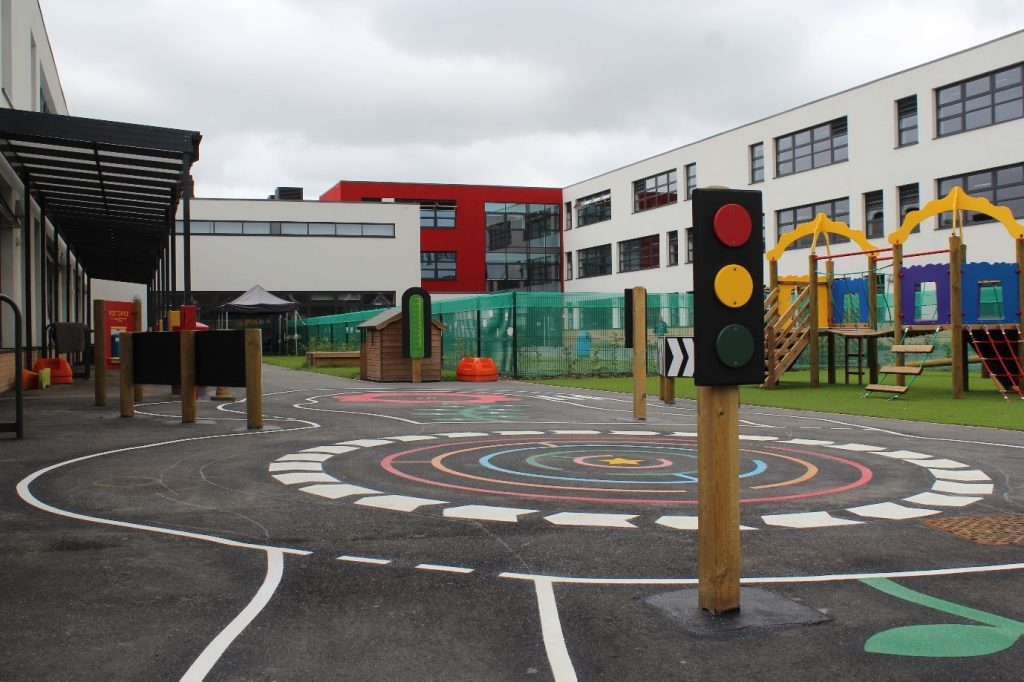 Making the transition from nursery to 'big school', or even infants to juniors, can be a huge step for children – but positive playtime can make the change far easier.
Most people associate school with learning new things (i.e. reading, writing, doing sums, taking part in PE lessons, etc). However, it's also crucial that children in primary education get to enjoy outdoor play with their friends – allowing their vivid imaginations to run wild and free.
Let's take a closer look at why children need time to play, how it can benefit them and how primary school playground equipment can promote ingenious games.
Why is imaginative play important?
The power of pretend play is not to be underestimated!
Kids have a magical ability to come up with games on the spot – putting themselves in the shoes of different characters. What might look like a climbing frame to you and me, is actually a princess' castle or pirate's ship!
Encouraging children to use their imagination in early years will aid their development – building psychological and emotional capacities that enable them to understand the world in which they live. Helping them solve problems and think creatively. And more importantly, they'll be able to express themselves and interact with peers.
Not just for toddlers, imaginative play should be encouraged throughout primary school. Aside from being heaps of fun, it helps children to become more resourceful by exploring their surroundings. They'll also be out in the fresh air, which is great for physical and mental well-being.
5 benefits of imaginative play
1.    Improve mental health
Something as simple as running around the school playground and playing with friends outside can be mood-boosting for primary school children.
Instead of feeling cooped up in the classroom, it offers a sense of escapism – allowing them to put their worries to one side for a few minutes and enjoy themselves.
2.    Boost physical development
Whether they're running away from big, grizzly bears, chasing after robbers, digging for buried treasure, making mudpies or crawling into secret dens, imaginative play often involves moving the whole body.
So, aside from being loads of fun, playing creatively can help to improve fitness and develop vital motor skills.
3.    Develop speech and language skills
Imaginative play is a fantastic way to get children to communicate with their peers and teachers.
As they mimic and explore the roles of different characters, there's usually someone to narrate what's happening. This naturally enhances their vocabulary and improves listening skills at the same time.
4.    Promote social interactions
Taking turns, sharing games and working together isn't always easy for children of primary school age. But they can learn to connect with each other in different ways through play.
Playing imaginatively allows school kids to explore the people and things around them whilst taking into account their own feelings. In doing so, this helps them to be aware of their emotional responses and reactions which, in return, helps to develop empathy.
5.    Fuel creativity
It's no secret that youngsters can invent make-believe stories and characters in their heads. They can turn virtually any object into something totally different too.
Putting their thinking caps on and using their imagination during playtime fosters creativity – a life skill that will come in handy throughout their childhood and adult years. And because there are no limits or restrictions to this type of play, children can really tap into their creative side.
How to incorporate imaginative play into the school curriculum
Promoting creative play doesn't have to be difficult.
Of course, you don't want children running around and bumping into each other – but aside from making sure there is plenty of room for everyone to move around freely – all you need are a few good props to hand.
This could be anything from fancy dress costumes, bikes and trikes to exciting primary school playground equipment, such as climbing units, activity trails and line-markings.
Here at Setter Play, we have been designing, manufacturing and installing school playground equipment for primary schools in our local communities for more than 20 years. Just take a look at our case studies if you don't believe us!
Although our imagination, social and natural play collection is immensely popular with primary schools, we can also create bespoke play provisions. These are ideal if you're looking for unique apparatus to suit your surroundings and spur little ones' imaginations.
Why not get in touch to discuss your requirements with our team? We'll be more than happy to help you make your playground more appealing for primary school children and can recommend suitable equipment for the age and abilities of your pupils.
Either give us a call on 01462 817 538 or email [email protected], and we'll get back to you as soon as possible.