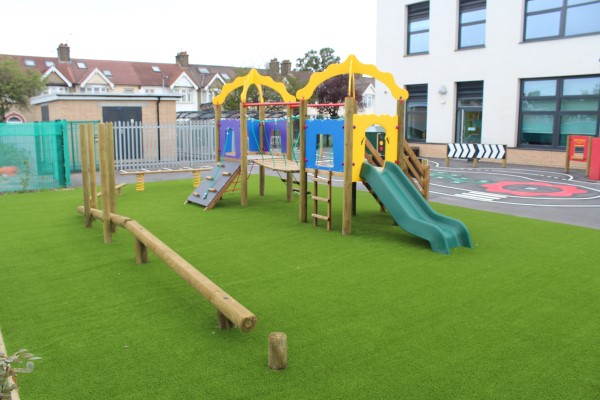 School playground equipment is extremely important if you're looking to encourage children to spend more time outdoors. Although our school playground equipment is designed to be eye-catching and inspiring, there are countless other benefits associated with the equipment that we supply at Setter Play.
Updating your playground facilities is just one way that you can enhance students ability to learn. Certain playground apparatus can improve children's ability to apply themselves and to broaden their physical and mental skillset. By choosing innovative school playground equipment, you could instantly maximise space and time, allowing young people to learn through play.
Inspiring School Playground Equipment.
Whether it be a climbing frame, slide or swing, we are confident that you'll find exactly what you're looking for at Setter Play. From Natural Play Units and Everyday Play Units to Trail Equipment and Playground Classics, it's inevitable that you'll find equipment that children love!
Check out our exciting range of playground equipment here!
Planning your Playground.
Before you jump in two feet first, we suggest taking the time to plan the design of your new playground and outline what your end goal is. In outlining your goal, you'll be able to choose appropriate school playground equipment that is tailored towards the requirements of children of all ages and abilities.
With an array of Fundamental units to choose from, it's inevitable that you'll find something suitable; take the Nogson for instance. The Nogson is just one of the units that we supply at Setter Play which effectively uses space to provide a challenge for all children, encouraging them to test their physical capabilities.
Another advantage of carefully designing your playground is that you have the opportunity to address challenges like obesity and autism.
Space Availability.
To make sure that you utilise the space that you have available effectively, take the time to decide what's going where. Considering how much space that you have to work with is ideal if you're to install school playground equipment that is safe for the number of children that will be using it at a given time.
Choosing equipment wisely will allow you to create an exciting school playground that encourages children of all capabilities to join in. Thinking about the space will essentially allow you to maximise your investment and prolong the lifespan of your equipment, reducing the need to pay for expensive repairs.
Include Parents and Guardians.
Parents and guardians tend to know their children better than anyone else, hence why you should consider asking them for their ideas.
The simple addition of benches and seating is ideal for teachers and parents alike- providing them with somewhere to sit and supervise whilst children play and socialise.
Incorporating the opinions of parents into the design of your new playground will not only allow you to build up a rapport with them but will provide playground facilities that suit their children, making sure that they receive the best education possible.
Here at Setter Play, we don't only accommodate for children. We provide canopies and shelters to offer protection against all weathers- so if it's raining, parents can keep out of the rain whilst waiting for their children.
Be Mindful.
It's likely that every school puts aside a playground budget, so you want to be sure that you choose school playground equipment that stays well within this budget.
Creating a detailed plan will not only make it easier for you to visualise what your playground will eventually look like but will prevent you from overspending, allowing you to spend your money effectively.
The school playground equipment from Setter Play delivers a sense of enjoyment for all students, providing challenges that enable them to push their own boundaries and encourage education through outdoor play.
If you need to know more about the playground equipment that we supply at Setter Play, give us a call on 01462 817 538 today.