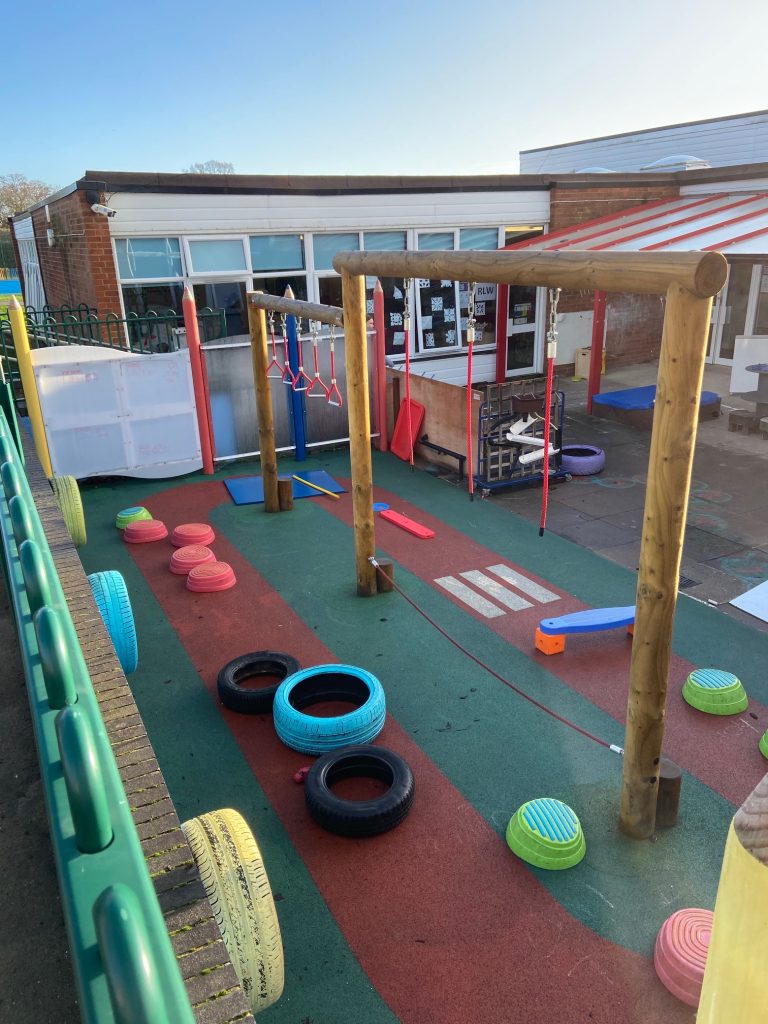 Kids Have Vivid Imaginations, Don't They?
One minute they're calling out the name of their next patient, the next they're driving a train around the school playground and baking a cake for their friends.
Through role-play, they can learn a lot about themselves, others, and the surrounding environment. It allows them to make sense of what they have seen or experienced, improve their language and communication skills, and work together to solve problems.
Whilst children are more than capable of using their imagination to come up with games on the spot, your school playground equipment should provide them with the perfect setting for their role plays.
Here Setter Play share a few ideas to make playtime oodles of fun.
5 Inventive Ways To Use Your Playground Equipment
1.    Transform your gazebo into a garden centre
What better way to inspire green-fingered children's imagination with an outdoor garden centre? Awake their senses by feeling the texture of soil and seeds, smelling different fragrances (i.e. lavender, mint, etc.), and seeing beautifully coloured flowers.
Gazebos or pergolas provide the perfect base for a garden centre, and planters and sorting tables can be used to make it feel more realistic. If you wanted, you could display posters to advertise opening times and special offers.
In return, children will learn how to be responsible and patient when growing their own produce. Plus, healthy eating will be encouraged, which is beneficial for their health as well.
2.    Use thermoplastic markings to create a play town
How many little ones don't love scooting around on bikes and trikes?
Whilst any play area will spark children's enthusiasm and creativity, digging out the fancy dress box and adding thermoplastic line markings can really set the scene.
For example, kids can follow the road markings – taking extra care to keep in their lane – and stop when the lollypop man (or woman) instructs them to. Alternatively, they can wait for the green man before they cross, teaching them the importance of road safety.
3.    Set sail with sea-themed play structures
From doing the register, phonics, maths, literacy, and P.E, the school curriculum can be demanding for staff and students alike. If only you could escape the chaos of the classroom for 5 minutes…
With its nautical theme and features, youngsters can set sail for wherever their imagination takes them – be it a deserted island or a lighthouse – with HDPE themed play units like Pugwash.
Not only guaranteed to go down a treat with the aspiring pirates, captains, and sailors in your class, it incorporates a bench which makes it the perfect place to sit, eat, rest, and socialise at break and lunchtime. Teachers could also join in with role-plays or take a seat whilst supervising the class.
Our Galleon ship-themed climbing frame is another great choice!
4.    Invigorate kid's fascination with traffic and transport
All aboard! Have your pupils recently been on a train ride? Choo-sing themed school playground equipment is a brilliant idea and will allow them to share their experience with their peers and teacher.
Our Play Train incorporates a crawl through tunnel and seating, which is perfect for encouraging role-play. It also helps develop physical and imaginative play from an early age.
The Play Bus, on the other hand, allows little ones to put themselves in the shoes of a driver or passenger, whilst practising nursery rhymes like "Wheels on the Bus".
5.    Build your own fungi forest with mushroom seats
Whether it be on their own or positioned around a Storytelling Chair, mushroom seats make a fantastic addition to the school playground.
Made from bouncy and comfortable rubber, they provide a bright and cheerful alternative to traditional wooden benches. More than that though, pupils can take a seat and listen to you read a fictional book at the end of the day. Or they can take turns and make up their own creative tales for the rest of the class.
Creating a dedicated corner is bound to make story time more exciting for pupils and staff. So, if you haven't already invested in a Storyteller's Chair and mushroom seats, we highly recommend you do!
Want to know more?
Setter Play are specialists when it comes to school playground equipment. After all, we've been designing, manufacturing, and supplying apparatus for schools and nurseries in and around Bedfordshire for more than 24 years.
To find out more about the equipment we provide or to discuss your ideas with our design team, don't hesitate to get in touch.
You can either call us on 01462 817 538 or email [email protected], and we'll get back to you shortly.