Twiglets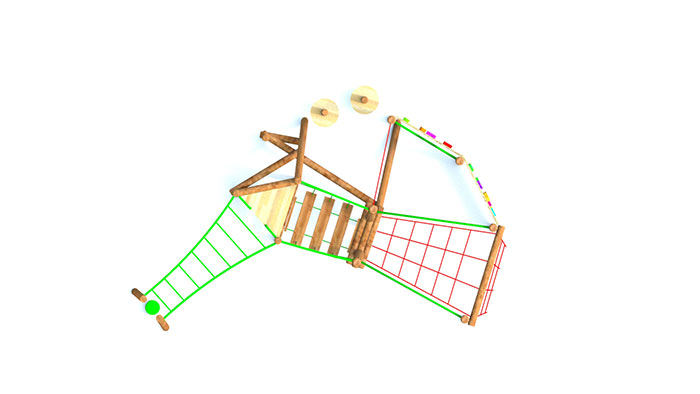 Children's Play Equipment, Elemental Range
The Kindling range falls into our Elemental range, as it mainly features quality treated timbers and muted natural colours in it's construction. Drawing inspiration from our unconventional Fiddlesticks large activity climber, the Kindling range continues with the ethos of free and unscripted play on an abstract and interesting climbing frame, but better suited for younger children.
The Kindling range consists of four different variations of the Twiglets activity climber, each with a different focus on the activities involved. These climbing frames are designed to be low-cost yet with a very high entertainment and engagement factor, and their funky appearance and wide variety of activities adds interest to any play area. They are also all built with ethical FSC-certified timber, and using components sourced largely (70%) from within ten miles of our base in Bedfordshire, meaning the Kindling range is eco-friendly too!
Twiglets Original
The original iteration of Twiglets draws on the strengths of the other configurations, whilst also incorporating an abstract overhead ladder. Engaging visually, and full of activities that assist child development, the Twiglets is a compact yet engaging climbing frame.
Twiglets Adventure
Consisting of a multitude of trail activities, bridges, rock walls, nets and ropes, the Twiglets Adventure is the full package. With non-prescriptive routes around the climbing frame, kids will be entertained endlessly discovering new paths to follow.
Twiglets Trail
Arranged in a circuit set up, the Twiglets Trail combines a wide variety of trail activities, with the tower units of more traditional playgrounds, all whilst remaining visually and mentally engaging for its users.
Twiglets Clamber
This Twiglets iteration centres on climbing and clambering activities, featuring rock walls, platforms, and a drop-rope traverse. These types of activities are key to improving children's core strength as well as their grip and grasp, demonstrating how a good climbing frame can help a child's development in a multitude of ways.