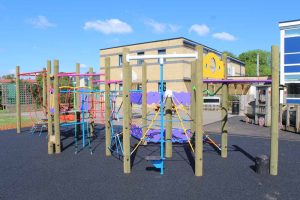 School Playground Equipment is something that we specialise in at Setter Play. We design, manufacture and install School Playground Equipment for all ages and abilities, creating imaginative environments that encourage children to get involved.
Any School Playground Equipment that we supply is designed to reflect highly on the surroundings, so if there are any specific features that you're looking to incorporate, be sure to discuss your ideas with our team of creative designers!
Selecting playground equipment from Setter Play can boost attendance, attention and attainment, not forgetting the fact that it can contribute to lesson planning- drawing on children's playfulness and curiosity.
For us, no project is ever too big or too small; we can create a play area that suits the requirements of students, parents and staff, so if you're looking for a little inspiration, you're in capable hands with Setter Play.
School Playground Ideas
When it comes to transforming your playground into something innovative and creative, you needn't look any further than Setter Play. We can help you to choose equipment that allows you to deliver more inspiring and fun-filled lessons, making them more interesting for students to learn but more motivating for teachers to teach too.
Your school playground needs to be eye-catching and bold if it's to encourage children to spend time outdoors, rather than indoors. Adding a splash of colour to your playground is yet another way that you could make your playground more enticing and welcoming, or perhaps incorporate colours that are associated with your school?
What about a tailored theme? Themed play units always make a fantastic addition to any playground- no matter whether it's a Play Train or Storyteller's Chair! These products are ideal if you're looking to inspire young minds, setting the scene and encouraging them to let their imagination run free.
Needless to say, education shouldn't just be taught in the classroom! Taking lessons outdoors can not only make learning fun and valuable, but it can also improve the attention span of the class, ensuring that they aren't distracted.
Sometimes less is more. You don't necessarily need to overcomplicate things when designing a playground, why not stick to the basics? Our Playground Classics are a firm favourite amongst pupils of all ages, so whether it be a set of Swings or an Activity Trail, you're sure to make your playground more enjoyable.
Playground Ideas for Nursery's
When it comes to installing School Playground Equipment for your nursery, you need to be mindful of children's capabilities. Providing equipment that is too challenging won't entice young children to interact or use the equipment and equipment that doesn't offer a thrill won't jump out at them, leaving them bored and uninterested, therefore you need to find a balance!
Statistics have shown that School Playground Equipment can stimulate core development which is essential in Early Years and the right playground equipment will provide children with every chance to grow and learn.
Here at Setter Play, we provide an extensive collection of playground equipment, including the Abstract Play Units. Our Free Form Play Units are designed specifically to provide a sense of exploration and maximise creativity, providing hours of endless fun for children.
The outdoor action climbing frames are bright in colour which instantly makes them stand out on the playground. An example of one of the Free Form Units is Vibe, a unique tower unit that is carefully configured to create a more angular appearance. Although Vibe is similar to the traditional tower climbing units that we know, it has been designed to suit all abilities.
Zippy and Super Spiffy are also part of the Abstract Range of children's equipment, but these are considerably more challenging. These units are ideal for children who are developing the concept of grasp and grip and combine various activities that are designed to test physical and mental strength.
Imagination, Social and Natural Play is another range that we are proud to supply at Setter Play! Within this collection of School Playground Equipment, you can expect to find a wide range of apparatus that is guaranteed to make a statement.
Not only are the Imagination Units designed to be colourful, some of them are available in a choice of colours, shapes and sizes, allowing you to choose something that will look great on your playground and also go unnoticed by pupils!
Playground Ideas for Primary Schools
Whether you're looking to boost the behaviour of primary school children, improve their communication skills, or simply looking to improve break times for students and staff alike, Setter Play has just the solution for you!
Having developed a wealth of experience over the years, designing and installing School Playground Equipment in Primary Schools, our team of experts know what works and where there is room for improvement, so if you're struggling for ideas of how to make your playground more fun, feel free to call us on 01462 817 538.
To make the environment more inspiring, don't be afraid to utilise the space that you have available and make it appealing. Children are constantly looking for the opportunity to play, so why not incorporate this into the school curriculum?
The Fundamental Play Units are built to incorporate educational aspects, obstacles and challenges, ultimately providing school children with the chance to develop their skills. Our Everyday Play Units are ideal if you're looking to make the playground equipment the centrepiece, after all, they boast an eye-catching design that sets them apart from any other.
Take Muttley for instance. This unit combines the level of imaginative play and stimulation of Hectors House with the physicality of the Zoiks unit! Our Muttley climbing frame is ideal for primary school children who have developed fine motor skills such as gripping and grasping.
As with any of the School Playground Equipment that we supply, the Muttley climbing frame can easily be customised to match exact specification, allowing the class to choose the finishing touches of their new equipment- making it their very own!
We provide a complete range of play units that are designed to make the most of the space that you have available. At Setter Play, we can also create a bespoke unit that matches your exact needs and wants, so what are you waiting for? The Bespoke Projects are designed to suit the needs and requirements of all schools.
The way it works is simple; we start with a brief (including exactly what you're hoping to achieve and any initial ideas that you have). This brief is then passed on to the creative team who will be carrying out the build of your playground equipment.
How to design a School Playground?
Setter Play can transform your current play area into something new and exciting- making the playground equipment a true asset for your school! By choosing an appropriate layout and discovering only the most appropriate School Playground Equipment, there's no reason why you cannot design an imaginative school playground with the help of Setter Play!
School Playground Equipment needs to suit the environment; hence why it's essential that you carefully consider the space that you have available and set a suitable budget. Designing the right playground could potentially boost the morale of the class, improve behaviour and encourage social inclusion.
Create a Plan
If need be, we can assist you with the planning of your new playground, ensuring that you achieve the best possible outcomes. At Setter Play, we work with you to meet your exact criteria, combining our own ideas with the ideas that you put down on paper.
Regardless of whether you're looking for playground equipment for your school or your nursery, you're in safe hands with our highly experienced team of professionals who keep you in the loop from start to finish. We also take safety measures into account to make sure that the equipment is safe for children to use and to provide you with peace of mind.
In terms of design, your school playground is only as complicated as you make it. Here's what we suggest when creating a stimulating environment for children to learn through play and to release their energy:
Encourage Children to Play
Don't forget to make your school playground welcoming. You want to create an area that encourages children to get involved and to play with their peers.
Use a wide range of equipment that is guaranteed to match the requirements of all children and try to keep each apparatus accessible. Make sure that there is a pavement to get to the equipment; the last thing you want for children to have to do is to go through a quagmire to get there!
Incorporate an Element of Discovery
The School Playground Equipment that we supply at Setter Play can lead children on a voyage of discovery, allowing them to use their imagination. Something as simple as a climbing tower can provide a challenge for all ages and abilities, allowing them to set themselves achievable targets.
Try dividing the playground up into sections; each one offering something unique and intriguing. Our Adventure Trails, like the Mound and Tunnel, are perfect if you're looking to encourage exploration from a young age, they provide a unique way to travel between the different areas in the playground.
Make it Challenging
Who's to say that your school playground cannot push boundaries? Our play units are not only designed to be challenging but can boost the self-confidence of the risk takers. The equipment that we supply at Setter Play is designed to a professional standard, so you can rest assured that no matter which of our products you choose, it's designed to be safe.
From our extensive range of equipment, there are several ways that you can design your playground to be inspiring, consider the addition of climbing frames, up and overs and zip wires!
Create a Quiet Space
Some children are less outgoing than their classmates and like to sit outside and watch until they build up the courage to get involved. To ensure that these students don't miss out, we suggest incorporating a quiet area within your playground that can provide a sense of comfort and security.
To separate noisy areas, why not dedicate an area within the playground for seating; allowing teachers and staff to supervise whilst children play? We supply a wide range of playground extras like benches and storage solutions that provide the finishing touches to your school playground.
Accommodate for Everyone
A well-designed school playground will allow you to attract the attention of all children. When designing your playground, think about discussing ideas with parents and children to gain an insight into what they are looking for and what they'll appreciate.
Your new playground shouldn't just be about the apparatus that children will use; you need to be mindful of other aspects of the playground, like Canopies and Shelters for instance. Our canopies and shelters are designed to offer protection against all weathers, so parents who are waiting to collect their children from school won't be left out in the rain.
Make sure that you choose equipment for your playground that blends seamlessly with the environment- this will allow for a more professional look and feel.
Importance of School Playground Equipment
School Playground Equipment can often make the difference between a good playground and a great playground- can you afford not to get it right?
Child Development-
Believe it or not, playground equipment can impact on children's ability to learn and is often key to physical, mental, intellectual and social development which ultimately makes it just as important as classroom learning.
Another reason why you need to find a suitable apparatus is to enable children to build relationships with their classmates and to develop skills by working as part of a team.
Outdoor Play-
Over recent years, outdoor play has become an integral part of the school day and is incorporated into the curriculum for Early Years. To encourage children to concentrate and to put things into perspective, outdoor play is a relatively new initiative that makes learning fun and engaging for individuals, ensuring that they all have the opportunity to learn new skills.
The right equipment can also be linked to cognitive development and promoting healthy living among young children. As a result of exercise building muscle, strength and coordination, it's no surprise that increasingly more nursery's and schools are investing in playground equipment! With challenges such as Childhood Obesity, the addition of new, innovative equipment could encourage children to be more active and to spend more time outdoors.
Health-
Releasing energy and burning it off is just one of the reasons why many schools have already chosen to upgrade their playground facilities, however, there are also health benefits associated with outdoor play and School Playground Equipment! Certain pieces of equipment can be used to assist with brain development, allowing individuals to concentrate and to utilise their energy efficiently.
Playground equipment is an important aspect when it comes to the school curriculum, hence why the team at Setter Play are always on hand to provide you with any advice or support that you require when it comes to designing a playground that suits the demands of all students.
How much does a School Playground cost?
Putting a price on a school playground is difficult because no two playgrounds are ever the same! There are several factors that determine the cost of your school playground including the following:
Depending on the type of equipment that you choose from Setter Play, our play units are each priced affordably, offering something unique and suitable for nursery children and primary school children.
You need to think about how many children will be using the equipment at a given time and ensure that it suits their cognitive strength and ability.
Think about where the School Playground Equipment is going to be installed; is it easily accessible? Can parents, guardians and members of staff supervise children?
The School Playground Equipment that we provide at Setter Play is designed and manufactured to suit your exact requirements, so no matter where you plan to install it, you can rest assured that it will fit perfectly.
Some of the equipment that we supply requires safety surfacing to prevent the risk of injury. This surface provides additional bounce and is easy to maintain.
Remember to consider where the apparatus will go; try to keep them spread out to prevent congestion and collisions. Make sure that there is enough space for the proposed plan; this will prevent you from overspending or not utilising all of the space that you have available.
When designing a school playground, you'll find it easier to follow a plan with clear instructions. Your plan should include thorough detail to make sure that you have every aspect covered, including basic site preparation and installation of equipment.
Here at Setter Play, we are the specialists when it comes to installing School Playground Equipment, so you can rest assured that any equipment that we supply is priced suitably but most importantly, installed correctly.
To find out more about our Play Equipment, don't hesitate to give us a call on 01462 817 538 or email us at [email protected] today!