We were invited along to provide a Village Green play area for BBC's Countryfile, and jumped at the chance to exhibit some of our favourite climbing frames. After careful planning and preperation, the vans were loaded up to begin installation on Monday 1st August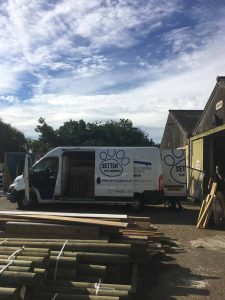 We arrived there to a blank canvas and got straight to work!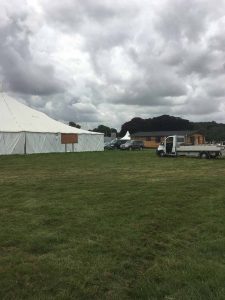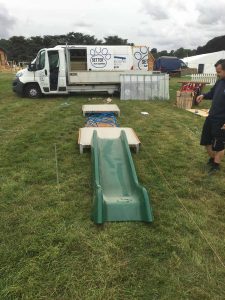 After a strong Day 1 we packed up, to return again bright and early the next day.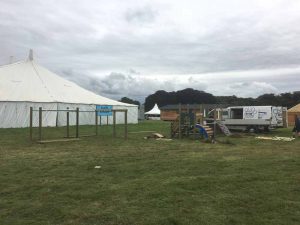 By the end of Day 2 we were very close to finishing the site; the 3m Hexagonal Gazebo was up, as was the Click tower unit and most of the Toot Hill jungle gym. We opted to build a Click as this is an instantly recognisable play unit; a configurable two-tower design that features exciting climbing activities on every face of both towers. We mixed in wooden and HDPE components like panels and roofs to demonstrate our capabilities and our designs a bit better.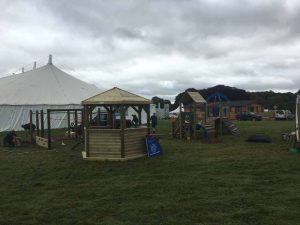 The Toot Hill was a favourite amongst the children of the Living Crafts show at Hatfield House last summer, so we knew we should bring one down for Countryfile. Inspired by old-school jungle gym designs, the Toot Hill is a grid of 4 x 3 uprights, with activities strung between them. This non-prescriptive style of play keeps children entertained as they can make up their own routes through and around the climbing frame, taking into account difficulty and speed.
By the first day, Thursday 4th August, we were all set up and raring to go. Countryfile placed us right in the middle of their Great British Ice Cream parlour, which benefitted both us and them!
The first few playground testers of the four days started to play…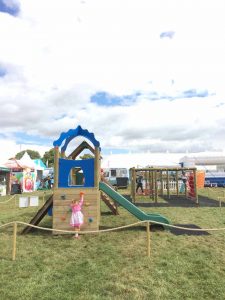 And then as the show went on we got ever more busy!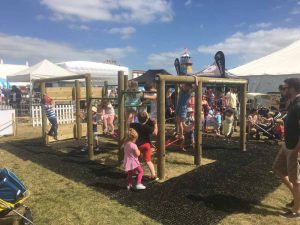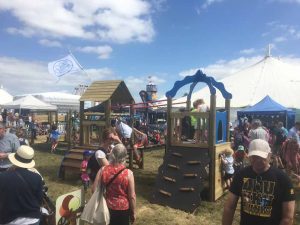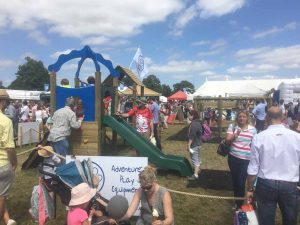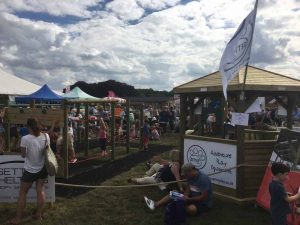 Each day had a team of three attending, which allowed us to rotate out to take a break every once in a while. Countryfile had constructed a giant scaffold tower from which to check out the beautiful views of Oxfordshire.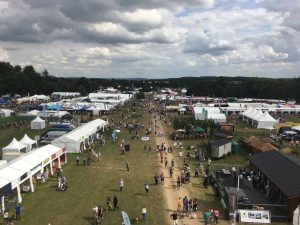 There were also the cutting edge in tractors and farm machinery, which our Business Development Manager, Aleks, enjoyed!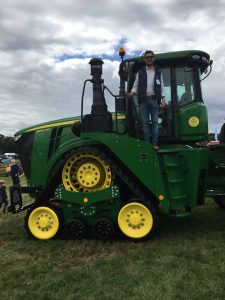 We were hugely lucky with the weather over the four days, with Saturday being completely cloudless.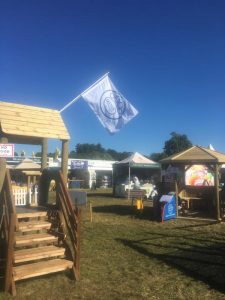 We met some wonderful people, all of whom were interested in our equipment and in the story of Setter Play as a family-run traditional timber play equipment designer, manufacturer and installer.
Our equipment received a shining endorsement from the children of Countryfile, which was fantastic to see.
We look forward to seeing you all next year!