Pyramid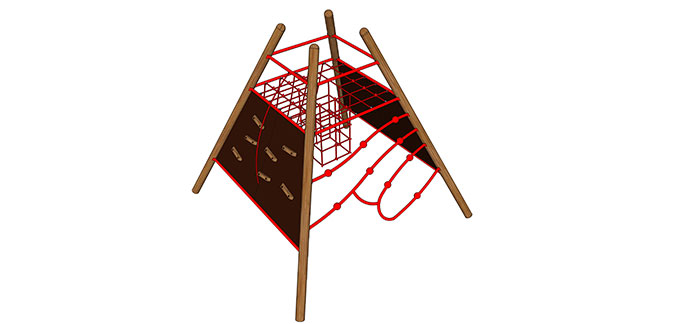 Children's Play Equipment, Abstract Range
The Pyramid was the first of Setter Play's abstract climbers, and was designed to be a modern take on the old jungle gym's of the 1970's. The great thing about jungle gyms was the lack of direction for use; there weren't any platforms, slides, nets, or roofs to dictate how you're meant to play. We decided to emulate that ethos but update the design to feature an innovative (if ancient!) shape, combined with modern materials and activities.
Pyramid is generally suitable for older children, featuring challenging 3-dimensional climbing activities throughout; an interior tubular net leads up to the net platform on top, and wavy rungs, a rock traverse wall, a rope traverse wall, and a clamber net making up each face of the Pyramid.
They are a firm favourite in parish council parks, with an attractive and engaging design that kids make a bee-line for. Some are still going strong 20 years later!