More and more schools throughout the UK are realising the importance of outdoor play and how school playground equipment can benefit students – particularly in their early years.
Having enticing apparatus on the schoolyard is a superb way to encourage children to spend time in the great outdoors, rather than sitting in front of TV screens and tablets! It also enhances their social skills, improves physical and mental well-being and stimulates creativity.
When it comes to inspiring exploration and social interaction on the school playground, the options are limitless. But one of our all-time favourites here at Setter Play has to be the infamous wooden play castle.
Most youngsters are well aware that every princess should live in a castle, and every knight needs a castle to protect. They love nothing more than diving into these fantasy worlds and taking on the role of being the princess longing for her prince or the dragon-slaying knight.
But that's not all.
Let's take a look at what else makes castles and forts (like the one pictured above at Crocketts Community Primary School in Birmingham) such a valuable addition to the school playground.
How children can benefit from play castles
Develop fine motor skills – most play castles are tailored to suit the ages and abilities of the pupils who will use the equipment, but they're often packed with climbing activities, ramps, steps and slides.
Clambering up rock climbing walls, using rung ladders and balancing on beams will give little ones the opportunity to grip and manipulate different objects and textures. This will improve their hand-eye coordination, which is a skill they will need to use in later life.
Encourage role-play – to you and me, it may just look like a castle-themed climbing frame – but to primary school children, it's really a castle fit for a king or queen!
Including a play castle on your playground will give pupils the chance to act out scenarios with their mates at playtime. Without realising it, they will be having loads of fun whilst enhancing their language and social skills.
When children play with forts and castles, they often put themselves in the shoes of a domineering king or a heartbroken princess. This allows them to explore different emotions and understand and process them in their own way.
Spur imaginations – bespoke units like our play castles are a great way for young children to act out real-life scenarios, whilst allowing their imaginations to run wild at the same time.
They enable kids to think logically and solve any problems they encounter along the way. And knowing they can solve their own problems without having to ask the teacher can give them a real confidence boost, helping them to become more independent.
Enhance education – while castles and fortresses are synonymous with myths and fairy tales, they're also a prestigious part of our history. There are several spectacular castles dotted around the world, and Britain alone has its fair share. Windsor Castle, Edinburgh Castle, Warwick Castle and Tower of London are just a few examples.
So, although wooden castle-themed play provisions can be used during playtimes, you could also incorporate them into the school curriculum – making learning a whole lot more fun for your pupils.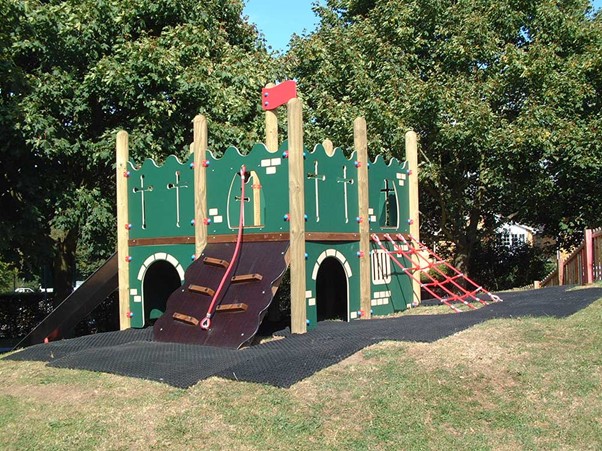 Take the next step and create a castle-themed playground with Setter Play
If you're looking to improve the appearance of your tired playground and want to offer school kids a sense of adventure and exploration, then why not design a play castle?
Here at Setter Play, we design, manufacture and install school playground equipment for local primary schools all the time. Our play castles, such as Prae Wood Castle in St Albans (pictured above) are immensely popular – not least for their ability to become the centrepiece on playgrounds of all shapes and sizes.
Over the years, we are proud to have installed castle play units for schools in Bedfordshire, Hertfordshire, Hitchin, Muswell Hill, Norwich and Swindon, to name just a few. We'd love to discuss your requirements in further detail and design a bespoke unit that's perfect for the kings and queens at your primary school.
Give us a call on 01462 817 538 and arrange an appointment. We can help you transform your playground into a play haven.